The Airport Inn OR Tambo shuttle departs hourly for the OR Tambo International Airport bus terminal.  The  bus terminal is easy to find at the airport, just follow the signs. From our premises, the shuttle can also drop you off at the  Rhodesfield Gautrain Station and Festival Mall.
This service is provided on a first come first serve basis, and unscheduled transfers are at a charge of R50.
Directions are provided below.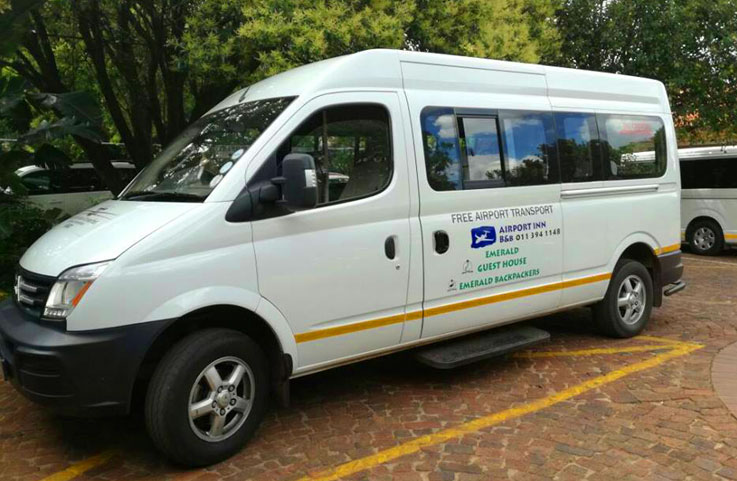 International Arrivals – Terminal A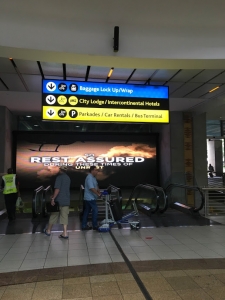 From Terminal A in International arrivals, follow the signs for the BUS TERMINAL.
Cross the service road using the pedestrian crossing.
Continue walking along the walk way – the bus terminal is straight ahead
Wait for the Emerald Guesthouse Shuttle at the bus terminal, the shuttle picks up and leaves within 10 minutes of arrival. Our shuttles have clear signage "Free Airport Transfer"  "Airport Inn"  Emerald Guesthouse"
Domestic Arrivals  – Terminal B
You need to make your way to international arrivals (Terminal A) and then proceed as per the instructions above.  (It is just a few minutes walk from Terminal B to Terminal A arrivals. There are clear signs indicating the way.)
Return to Johannesburg Airport
We drop you off at the airport as per scheduled times. (Please note unscheduled transfers will be charged at R50)
am – 05h00, 06h00, 07h00, 08h00, 09h00, 10h00
noon – 12h00
pm – 14h00, 15h00, 16h00, 17h00, 18h00, 19h00, 20h00, 21h00, 22h00, 23h00

Gautrain shuttle service
We offer free pick-ups and drop-offs to and from Rhodesfield Gautrain station. These are as per request and arrangement with management.
Other shuttle services
You may book the shuttle to take you to close by places and attractions at a nominal fee. These include Festival Mall, Emperors Palace, The Golf Course etc.  Inquire at reception for further details.